Pearsons Glass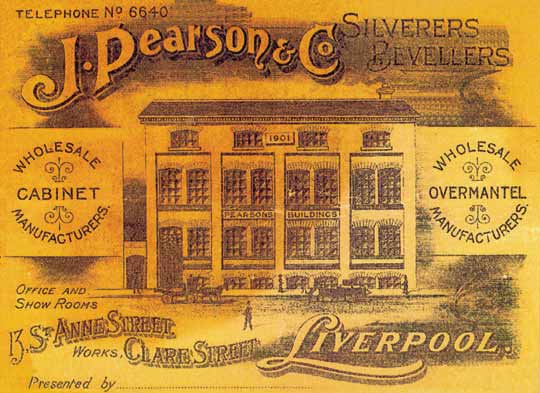 Pearsons Glass was founded in Liverpool, England in 1901 as the family firm J Pearson and Company, specialising in silvering, bevelling and the manufacture of cabinet doors.
In 1977 we incorporated as Pearsons Glass Limited, moved to a larger site, and began the now continuous process of investment in the latest machinery and equipment. We have also concentrated on building and strengthening the manufacturing team, and have our own in-house specialists in finance, I.T, logistics, manufacturing, engineering and HR.
Processing Department
Our manufacturing and processing is based in a 25,000 sq. ft. factory just a mile north of the world-famous Liverpool Pier Head, in a developing area of the city. The common factors which cover the hundreds of different jobs produced every week are their individual specifications, the attention to detail required and the short time scales allowed. We pride ourselves on the flexibility we have to achieve these aims, which is helped by the use of the most modern machinery available within the industry and our investment in staff training.
Processes include a mixture of traditional and modern applications, such as cutting, shaping, polishing, bevelling, drilling and sandblasting, as well as painting, printing, EVA laminating, UV bonding, UV printing and toughening.
We deliver with our own modern fleet of vehicles, specially adapted to carry glass, throughout the UK.
Art Glass Department
Until the early 1980s, there was no one-stop location from which coloured glass artist could obtain their supplies, including ancillary items such as lead came and tools. Pearsons Glass were amongst the pioneers in setting up that facility. Having incorporated James Hetley & Co. and Bohle Art Glass into our company, we are now proud to be by far the largest supplier of these products in the UK.
We have a modern warehouse unit in Liverpool close to road and rail links, with a comprehensive stock of materials from which to choose for your projects and commissions. Because of our worldwide network of strategic manufacturers and partners we are able to acquire imported supplies quickly.
There is also a shop online facility easily accessible via this website, containing the largest range of stained and art glasses anywhere in the UK, as well as a variety of tools and accessories to cater to every artistic style, all delivered either by our own fleet of vehicles or specialist carriers.
Do you have what it takes to work with us?
We are always on the look-out for enthusiastic, hardworking, motivated and talented individuals to join our team at Pearsons Glass. If you feel you have what it takes and would be a great addition to our team, please send your cv and brief covering letter to lisab@pearsons-glass.co.uk.